In a sunny beautiful day of this summer,we decided to bring the whole office to a paddling trip.
15 of us geared up, brought 6 kayaks and 1 soft top SUP, and of course our drone to a river at rural area of NingBo city.
Some of us tried the first time ever on the water. It turned out to be a whole day fun no matter how insecure we felt in the beginning.
All these kayaks are made in our own factory and they were kept in the sample room for almost 2 years already.A bit dusty but soon rinsed by the water and shining under the bright sunlight.
"I don't know how to swim but the life vest and the encourages helped me to finally climb on the kayak. It's much much easier than expected and when drifting on the middle of river,time seems to be paused and all I have to do is to enjoy what nature offers to us without worrying about anything." said by Sue who is in the sales team and personally have sold thousands of kayaks. She afterwards went for a few more times with her kids. Kayaking simply grew on her!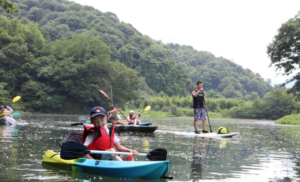 Dennis,this guy who had a blast here,who also just is the manager of sales team. Big fan of camping,hiking,now he has one more thing to do in weekends-paddling. What's more,now he even runs a small kayaking&camping gears club as his part-time career,which helps him to expand more possibilities and more importantly,he knows the kayaks and stand-up paddleboards very much!