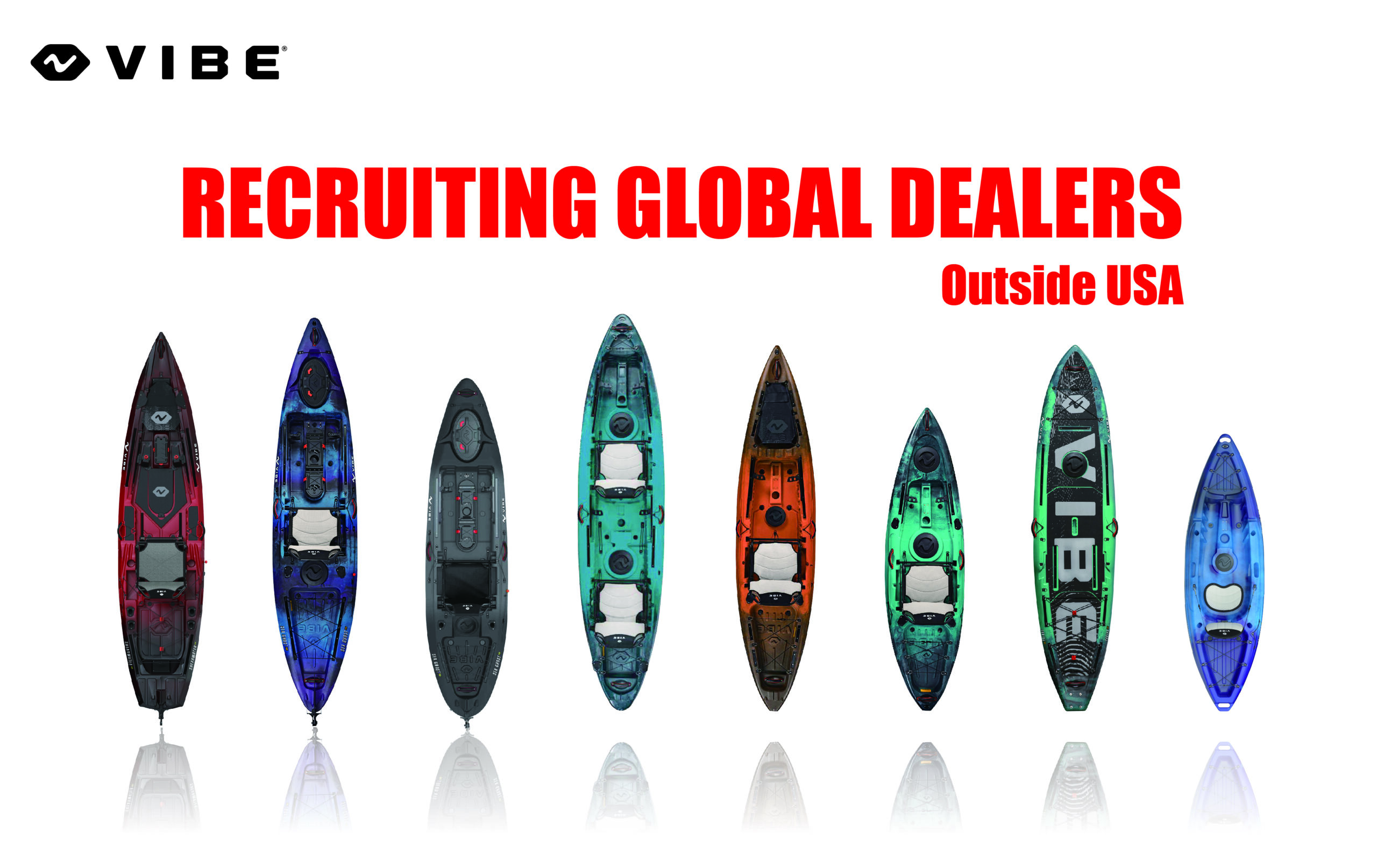 Vibe kayaks are now finally recruiting global dealers!!
As the sole factory of premium kayaks of Vibe, we're authorized to find dealers worldwide.
As long as you have your way of selling/renting kayaks, you can get the dealership at a great price. All the Vibe kayaks are packed for retail, ready to ship, and prepared to make you a win-win deal!
Request Quote
Send Us A Message
"*" indicates required fields
Vibe kayaks are becoming the top choice for anglers who need a complete fishing kayak for a better experience. The reason for choosing the vibe kayak is that it has suitable dimensions and some of the best features on the kayak market. Also, vibe kayaks are reasonably affordable, especially when you buy from an authorized dealer.
On windy days, you will find vibe kayaks like the vibe sea ghost and other models excellent because the construction design allows these narrow vibe kayaks seamlessly glide across the waters. Other features like the long paddles, adjustable features, hero seat, and stability make these kayaks perfect for going on an adventure.
Vibe kayaks are also compatible with a wide range of accessories. You can install a trolling motor with a pedal, use paddle holders and cup holders, and leverage the storage space to enjoy a unique user experience.
These products stand out from other fishing kayak models as an unsinkable fish catching platform perfectly suited for ultra shallow shoreline waters. The unmatched hull stability makes them excellent for beginners, and you will appreciate the rudder ready hull and rigging and storage options.
Overall, we have seen customer reviews for these fishing kayak models are excellent, and the performance continues to impress users.
Vibe Kayaks Models Introduction
We have done a complete roundup of the best vibe kayaks you should consider buying from our company:
Vibe Sea Ghost 110 Kayak
The color options for this kayak are impressive. The kayak design always looks great with different painted patterns. This makes the kaya suitable for people who want to be creative with their kayak painting. Then, these kayaks are comfortable, with framed hero seats with additional storage space underneath.
The rotomolded tech is flawless, and it also comes with a rudder system. Also, this is a durable kayak made from high-quality LLDPE, which is excellent for a fishing kayak. And, the sea ghost 110 angler kayak has excellent rigging and storage options, with unmatched casting precision. It also has a superior tracking system.
The load capacity is about 425 lbs and has a well balanced hull, which is excellent for stability when cruising rivers or flat water. The sea ghost is also great for maneuvering tight quarters, and it can glide at a reasonable speed, which is helpful to anglers navigating the deepest ocean spots with a bixpy jet motor.
Vibe Cubera 120 Hybrid Kayak
This solidly built kayak with long paddles is the most complete fishing kayak for navigating on windy days. The kayak has excellent stability, which is good for users who want to go fishing often. The load capacity of this fishing kayak model is 425 lbs, and it can glide at a reasonable speed.
These kayaks have a great design that will look great in any color pattern, so they are the best fishing kayaks for customized paints. The rotomolded performance helps improve the kayak's profile on the market, and it is durable. The LLDPE finish is durable and easy to clean.
The package comes in a bubble wrap that prevents scratches, and these bestsellers have received excellent reviews from users.
Vibe Shearwater 125 Kayak
This beautiful vibe kayak design accommodates a wide range of color combinations. The fishing kayak is excellent for landing fish and adventure. It is compatible with a pedal driven trolling motor and can easily be used to navigate rivers and lakes. Our company always tries to stock this fast-selling fishing kayak to match the sales demand.
It comes with a rudder system, which is high-quality, and a super-comfortable vibe summit seat, so you can go fishing in comfort. The complete fishing kayak is durable and made from LLDPE, which can last for many years.
Also, this shearwater 125 kayak model is compatible with trolling motors, or you can use long paddles. The load capacity of this model is 475 lbs, and the kayak glides smoothly on rivers. Customer reviews are positive, and there is a high demand for these vibe kayaks.
Vibe Skipjack 90 Kayak
This is one of the vibe kayaks with an amazing convenient design and storage space. The rear storage space allows users to keep personal stuff securely in the waterproof storage space. In addition, the vibe hero seat has some space under the seat. There are bungie ties to hold items securely, and the kayak has a sturdy handle at the front and back, so users can pull or carry the kayak without stress.
The load capacity is about 425 lbs, which is perfect for people with average weight. Also, it has impressive stability to keep users safe and for easy maneuverability. The long paddles are sturdy and can be secured in holders. Also, this kayak has enough leg space for comfort.
Order Now
You can order any of these vibe kayaks in bulk, at an unmatched price. These kayaks have unparalleled performance and are perfect for use on flat water. The kayaks are suitable for windy days and have excellent features you will love.
Invest in these bestsellers today, and send us a customer contact form to get started.