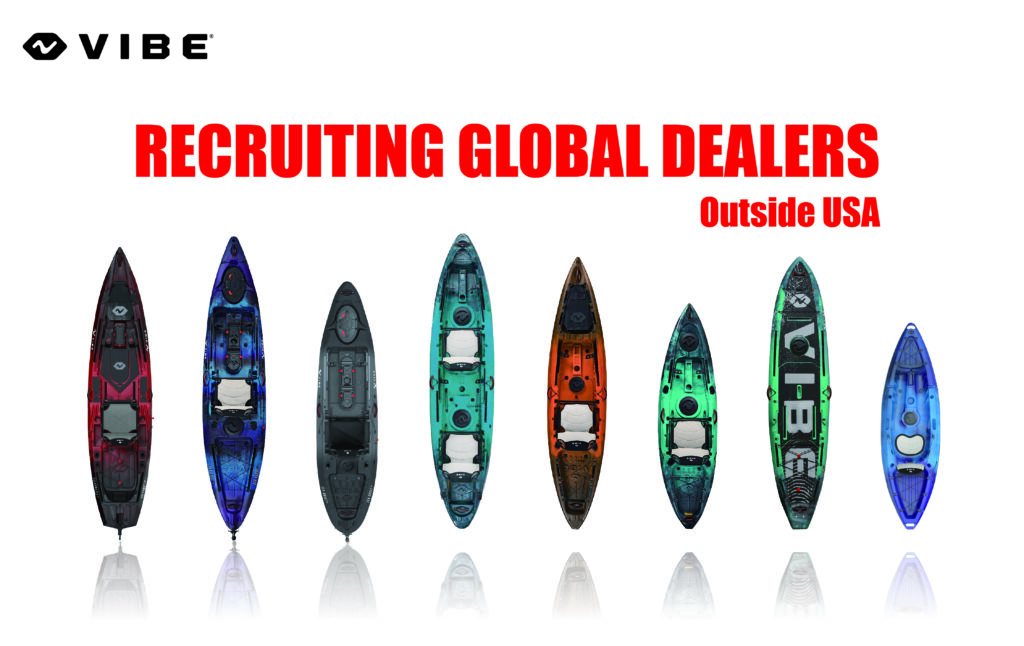 When it comes to balance, aesthetic appeal, maneuverability, and speed, the vibe yellowfin 100 kayak stand out on the market. It is a top-rated model among the vibe kayaks, designed with some of the best features you will like. The customer ratings for the vibe yellowfin 100 kayak are excellent, so we are not surprised there is a huge demand for them.
These kayaks have outstanding features you can learn easily to enjoy your purchase. They are perfect for use as a fishing kayak or the perfect all fun kayak for people who have just started kayaking or the experts.
Another thing to note is that you can learn how to use only vibe kayaks with little practice. The little boat will soon become your favorite choice for touring the lakes and fishing.
Are There Risks of Using the Vibe yellowfin 100 Kayak?
We can confidently write here that the manufacturers of this product have gone a step ahead to ensure they are safe for every angler out there. The top features, such as maxed out stability, adjustable foot braces, waterproof cargo bags, and vibe hero seat, all point out the safety level you can experience while using these kayaks.
It will be your best of all kayak purchases, and having limited lifetime manufacturer's warranty covers is an added benefit when you buy the vibe yellowfin 100 from an authorized vibe dealer.
Why You Should Buy Vibe yellowfin 100 Kayaks
The advantages of using these vibe yellowfin 100 kayaks are many, which is why there is a rise in kayak purchases all over the world. These are not the only vibe kayaks that we can ship out to other parts of the world, but there is a specific demand for the vibe yellowfin 100 brand.
Here are the benefits of buying and using these kayaks:
Excellent Fishing Kayak
If you want a seamless kayak for fishing, the vibe yellowfin 100 is your best choice. The sit-in kayak has the space to keep the fish you catch. Also, the deck thickness makes them compatible with different types of trolling motors, so you can easily navigate these kayaks across lakes or rivers.
The stable kayak allows you to navigate the lakes without causing too much noise to scare fish away. Therefore, you can use a fish finder to locate schools of fish more effectively.
Best Design for Tall People
The entire length of this kayak is 10 feet. This is perfect for tall people who need more leg space. It is also great for people who may be used to having a kayak with adjustable foot braces, which helps improve usage.
It helps to have enough leg space when you go fishing because you may be out there for a long time. Also, the comfortable hero seat makes the kayak perfect for recreational use, giving a whole new meaning to the phrase- providing comfort.
Speed
Most owners of kayaks glide across the water fast, but the vibe yellowfin 100 is much more stable and glides at an average speed. We attribute the kayak's average speed to its narrow construction. It is an advantage because anglers can still achieve their goals without gliding at top speed. And for anyone who wants to move at a faster speed, these kayaks are compatible with trolling motors, which can significantly push the small boat faster.
Easy Navigation
What the vibe yellowfin 100 lacks in speed, it makes up for in maneuverability. The narrow construction allows you to navigate lakes and rivers without stress. Again, you can navigate by paddling or using a trolling motor.
When it comes to passing tight turns or bends, you can rely on the vibe kayaks to get through that spot without stress. Anglers who plan to use it as a fishing kayak can go along with fish finders or GPS to avoid getting lost while landing more fish.
Glide Across the Lakes in Comfort
Comfortable features like the vibe hero seat, adjustable foot braces, leg room, and more are some of the top reasons why these vibe kayaks always sell out on the market. The kayaks also have a rear cargo storage area that can hold waterproof cargo bags and other personal stuff. So, if you plan to carry along a small bite sized package, there is space for it. And there is a cup holder. The position of this cup holder is great, which is super-thoughtful for the manufacturers of these boat packs.
Excellent for Beginners
There are a whole lot of reasons why beginners should use these vibe yellowfin 100 kayaks. They are easy to use because the features are seamless, and it is a stable kayaks. This helps to boost the user's confidence compared to maneuvering a wobbly kayak across the lake. Also, the built-in rod holders and bungee ties are features that allow users to enjoy learning how to use these products.
Value for Money
This is a way better compact SUV type kayak with some of the best features that have worked perfectly for many years. This is why the word on the street is that you get the most value for money when you invest in the vibe yellowfin 100 kayaks. The paddles are sturdy and made from high-quality materials, and the gear tracks, rod holder, and hero seat are made from the best materials. The spacious bungeed tank is also a great addition to the product's profile, and several accessories and parts attached to the kayak are part of the package that comes at a great price.
We know the deck plates with waterproof, and the yellowfin 100 is compatible with mount fishing rod holders. These features and more are reasons why the yellowfin 100 provides the most value for money.
Features of the Vibe yellowfin 100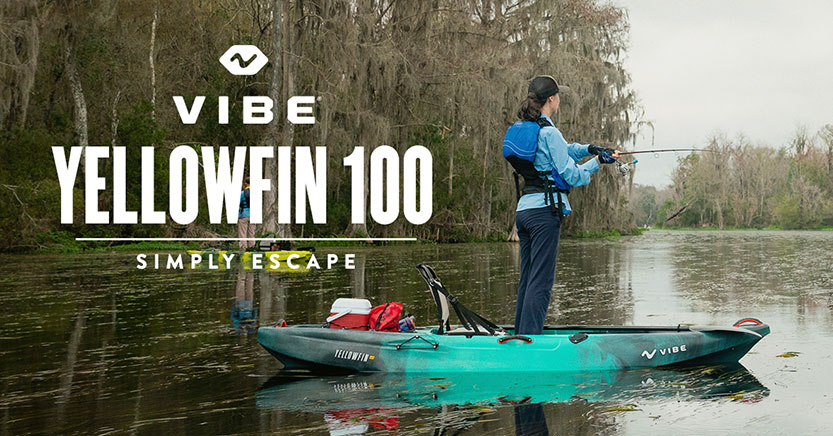 The vibe yellowfin 100 is one of the best kayaks in this category for fishing or exploring lakes. This is because the manufacturers have included awesome features to make the product stand out.
Here are the features you stand to enjoy while using these vibe kayaks:
Comfortable Vibe Hero Seat
The vibe hero seat is an excellent addition that makes the kayak even more pleasant to use. The adjustable features allow you to fold the chair for moments when you need to stand or stretch your legs. Also, sitting for hours is not a problem because the vibe hero seat has the best lumbar support to help prevent lower back pain.
Also, when set up, you can leverage the storage space under the seat to keep your stuff. And the seat frame is UV-resistant and covered in nylon. It is a dura-aluminum frame that is not too heavy. The vibe hero seat is perfect for this yellowfin 100 because it is comfortable, and you do not need to go through the stress of assembling the seat.
Kayak Length
The standard length for these vibe yellowfin 100 is 10 feet. This is perfect for a fishing kayak or if you would like to use the small boat for recreational use. The length also enables every user to maneuver the kayak easily, and you can install a trolling motor to push the kayak if you want an easier option for navigation.
Kayak Width
The standard width of these kayaks is 32 inches. This is another feature that provides convenience. Anyone of average size can sit in these kayaks comfortably.
Load Capacity
The load capacity rating for this model is 375 pounds. This is excellent because it means the product is available to a wider audience who need a kayak with 375 pounds capacity. The load capacity also makes this product ideal for fishing.
Rear Cargo Storage Area
The manufacturers have thoughtfully provided more storage space in the rear cargo space. The space is secure, so you can store your bags, and it can also accommodate waterproof cargo bags. This means you can use them as the perfect all fun kayak.
Safety Features
Using this yellowfin 100 models is always a great experience because you can feel safer while gliding across the lakes. The kayaks have a bungee tie which you can use to secure your stuff. Also, the built-in rod holders and quick tackle are necessary parts attached to the kayak. It also accommodates flush mount fishing rod holders and sealed v wave deck plates, among many other features that reduce the need to make any warranty claim.
Portable Kayak
You do not have any worries about storage space when you buy the yellowfin 100 kayak. They are much easier to keep compared to other types of kayaks in this product category. This is a fully functional little boat with the best features everyone loves.
Are There Any Drawbacks?
We encourage more people to buy these vibe yellowfin 100 because the customer reviews are excellent. Many users refer their friends and family to buy these products, making them bestsellers. Also, the manufacturers are committed to producing high-quality vibe yellowfin 100 models to meet demand.
Order in Bulk Today
You can invest in these vibe yellowfin 100 kayaks today. Send us a message using the customer contact form to order.